After reading my last entry with a friend (an English speaker-
anglophone
- ps. from now on anything in italics is in French) we both realized that I had made quite a few spelling and grammatical mistakes- very very obvious ones. I am fully aware of the mistakes (now) and I am really hoping that they won't happen when I'm writing any papers in the fall. I do think my spelling of "symbol" as "simble" is a result of my French phonetics class, so I'm putting all the blame on Madame Raza. Enjoy the spelling mistakes!

Flight to Munich
So as you all know, I visited my friend Julie in Salzburg in early Feb. One of the easiest ways to get to Salzburg is by flying to Munich and then taking a 2hour train to Salzburg. So I booked my flight and I was on my way. My flight to Munich was canceled unfortunately and then the rescheduled flight (2 hours later) was about 3 hours late. So I spent a looooooooong time in Charles de Gaulle, which just happens to be the world's 6th busiest airport. ALSO, my trip was 2 days after the French suburban trains had gone on strike (the train needed to get to the airport). AND, my entire trip was only a week before all Lufthansa (the largest European Airline) workers went on strike for about three days. It couldn't have been planned at a better time. Info about Salzburg: birthplace of Mozart, Red Bull, The Sound of Music, and other very important things =).
Munich to Salzburg
I arrive in Salzburg and of course I had completely forgotten to tell Julie about the flight delays and not only that, but I had been so oblivious about the drastic climate change. Great. I was so tired, but excited to be in Austria. So Julie introduces me to her host mom, but before I tell you about that.....I couldn't remember what she had told me about her home stay so on the way to her house I kept on trying to remember what Julie had told me. I couldn't remember anything in particular so I was automatically thinking that it might not be the best situation, considering that many of my American friends haven't had the best experiences with their own host families. So I am nervous, because I don't know how Julie's family is going to be and of course I can't ask her when her host brother is driving... So Julie introduces me to her host mother.. and I take a deep breath because she ends up being sooooooo incredibly charming and welcoming! Sigh! And this night marked the first time I bit and endulged into a berliner, krapfen, jelly donut, however you wish to call it! delicious!!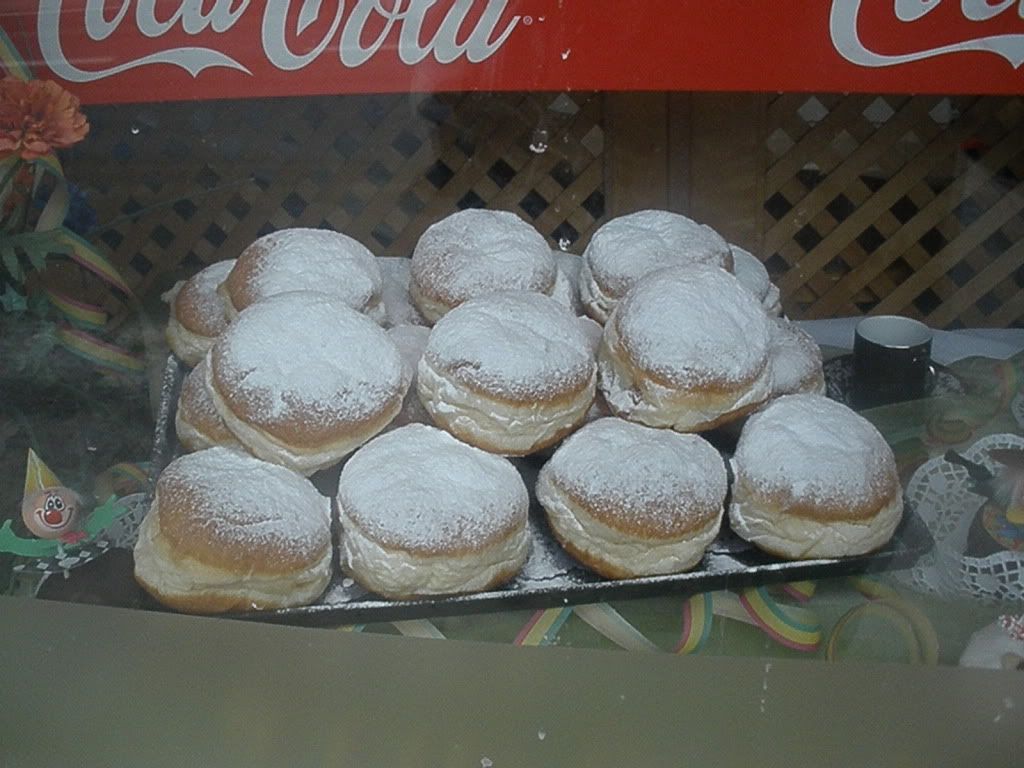 Salzburg Day 1- Wandering around the Old Town
Julie doesn't have class on Friday's either, so we first had lunch at her school, which by the way only has about 27 students? and they get free lunch? I'm mildly jealous here!! After lunch we escaped into the semi frozen Salzburg and headed to climb to the fortress. Now I can't tell you all of Salzburg's history, but it is important to know that it was at one point enclosed by a wall and the fortress is one of the biggest in Europe. I've taken a couple snaps of the fortress so you call all get a good view from the front and back. After the fortress, I had the pleasure to sit down in a little cozy cafe and taste the authentic apple strudel (apfelstrudel) with white hot chocolate. Mmmmmmmmmmmmmm! Earlier in the day, we also had gone into the Cathedral which has semi-survived the bombs of WW2. The center altar was completely destroyed, but as I saw the pictures of the bombing and the present day status, I would have never known. We also walked through the cemetary right next to St. Peter's Basilica, which was featured in The Sound of Music =) .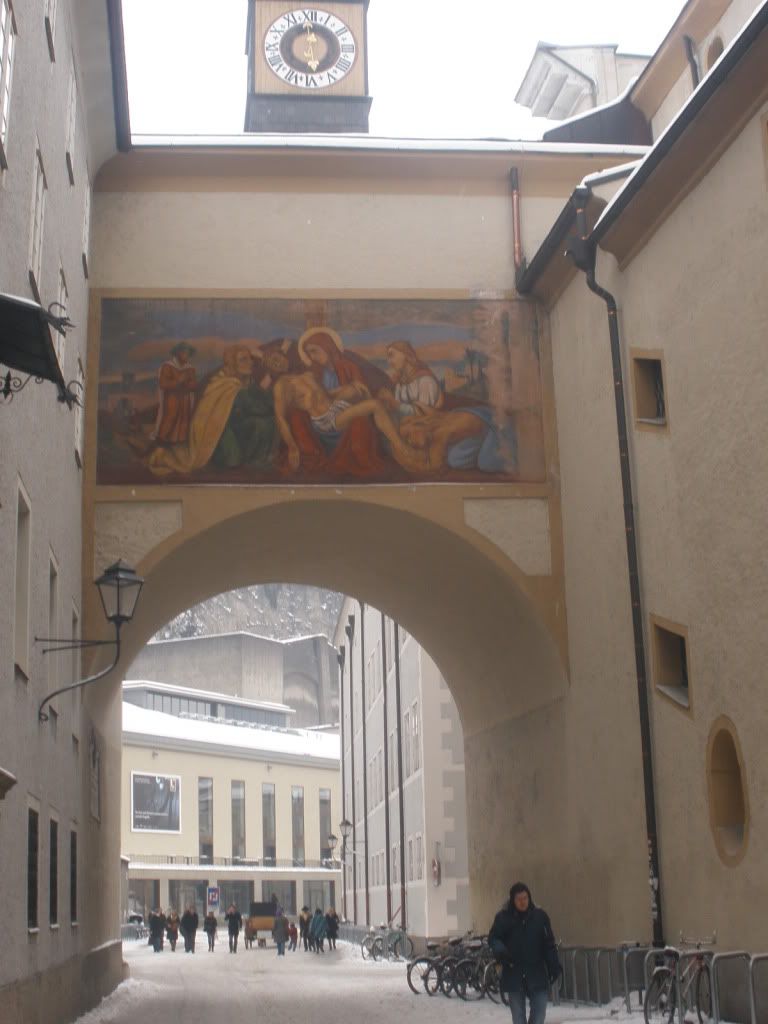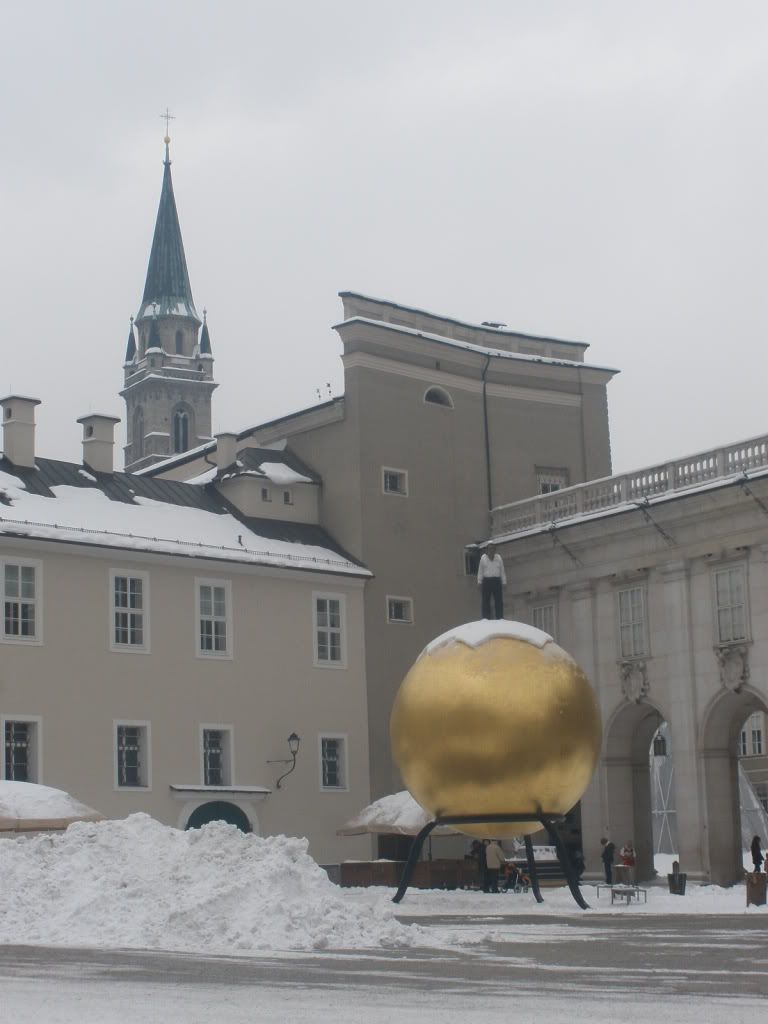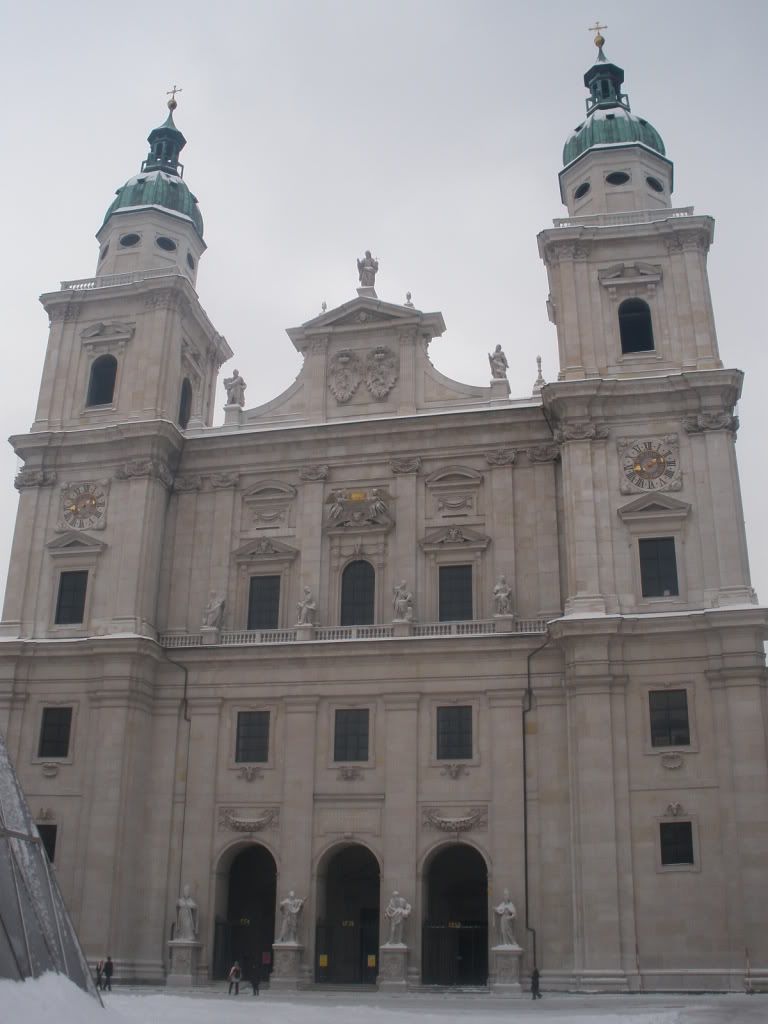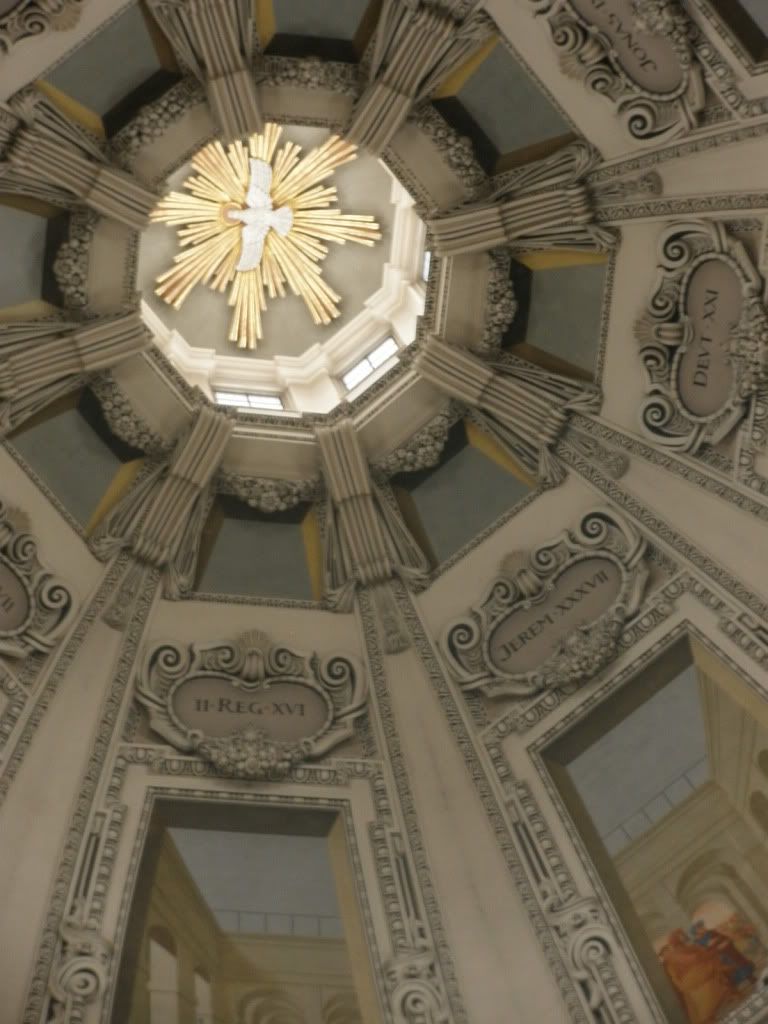 The center dome of the Cathedral. The beauty of the Holy Spirit!

View of the Cathedral from the fortress.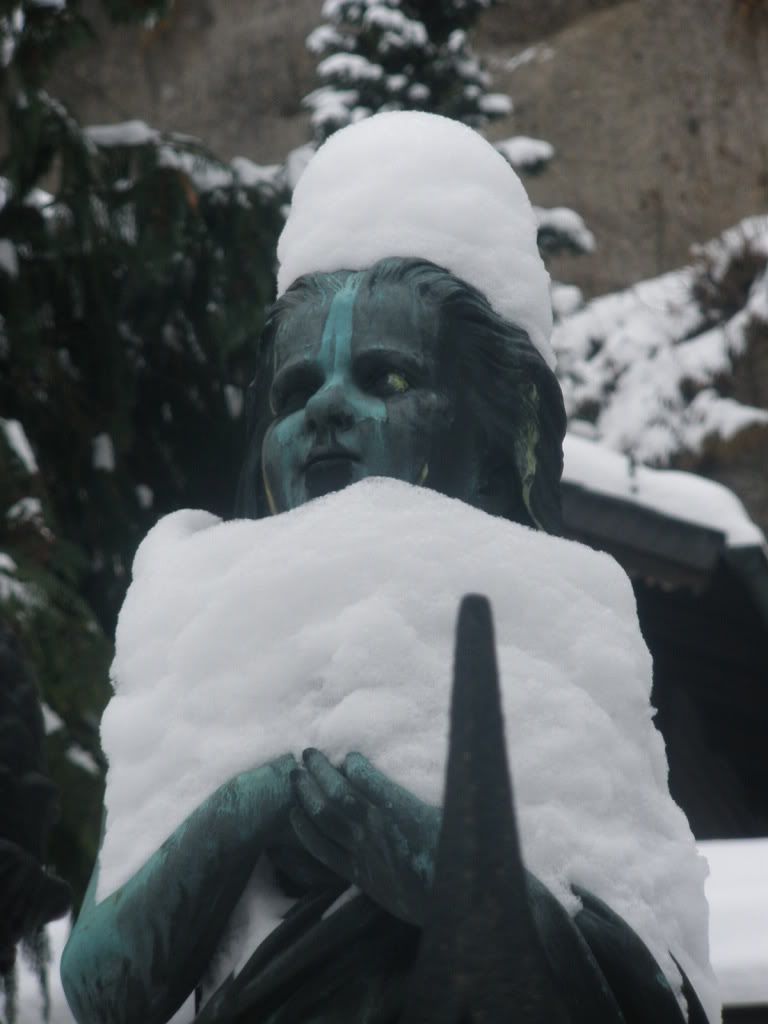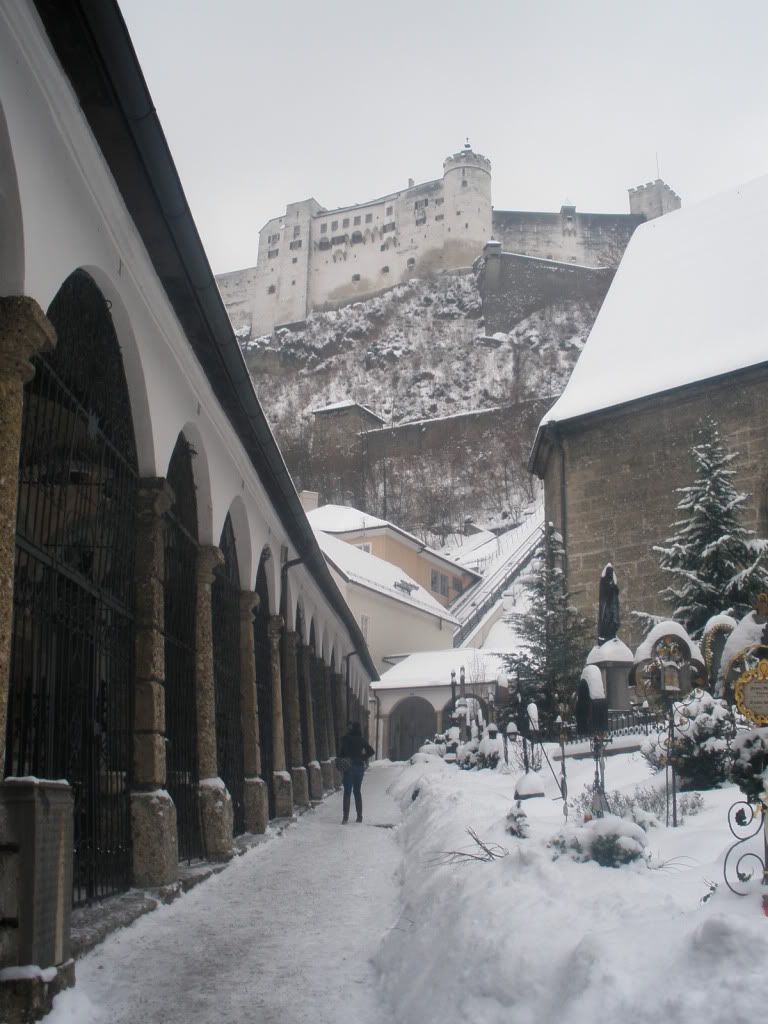 Salzburg Day 2- The Salt Mines
Salzburg, literally means "salt castle", so naturally it is a must to visit the local salt mines which have made the city so famous. So we catch a train, and a bus and we make our way to the mine. It was probably one of the cheesiest, corniest, ridiculous tour's I have ever been through, but it was great. The tour guide gave the tour in German, then Italian, then pulled me aside and told me in English although by the time he told me in English I at already semi understood what he had said. There was a series of videos that we would watch, with dry jokes and dramatic music. One of the coolest parts was seeing the transportation within the mine; they used slides and little wagons to get from cave to cave. Slides, that could probably kill you if you went down improperly, but I got to slide down TWO of them... ah!! I was so nervous!! Little souvenir: mini salt container.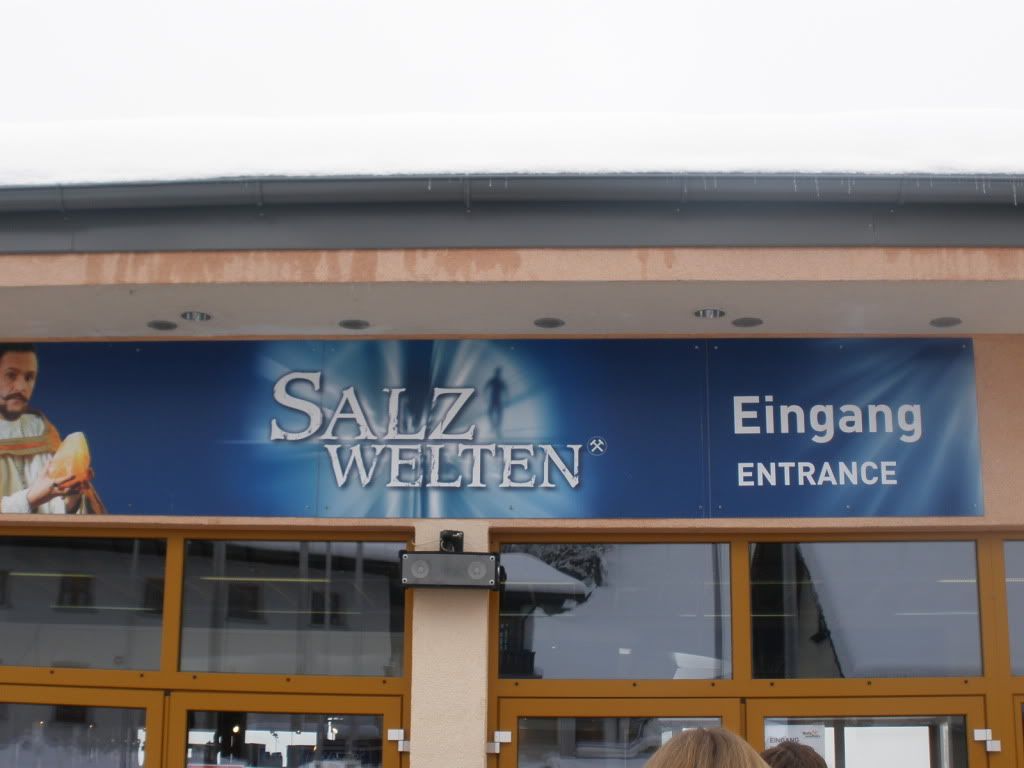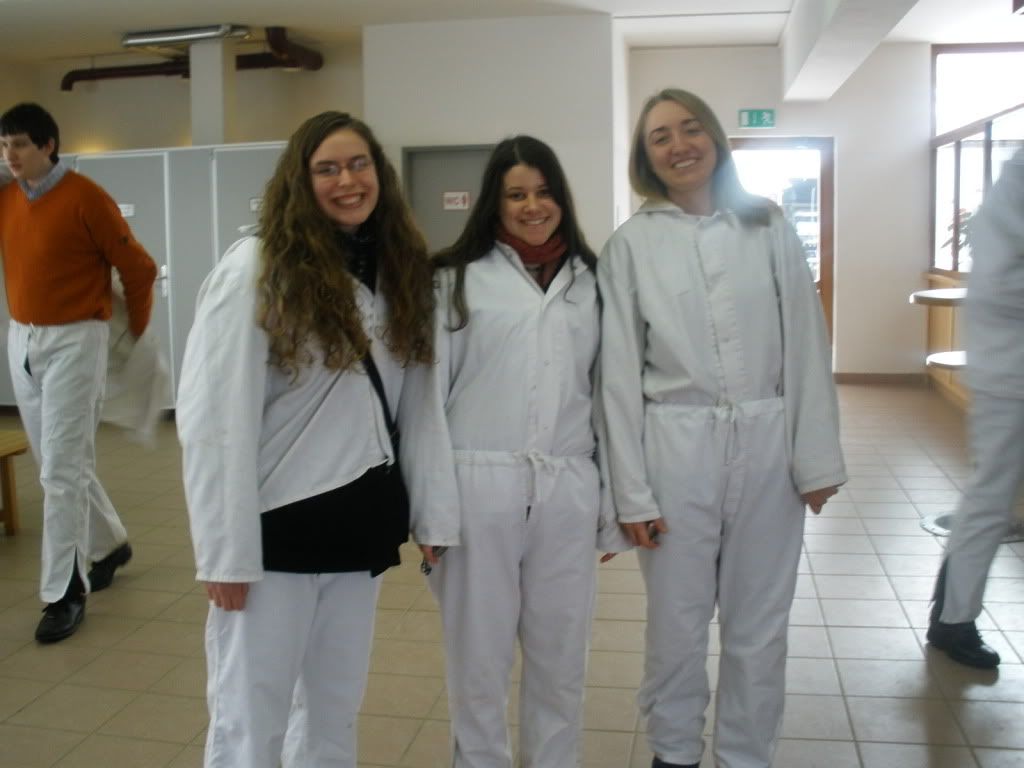 Salzburg Day 3- Valentine's Day with Julie
I almost forgot that it was February 14th, I mean there is no Hallmark cards everywhere to remind me! Julie and I celebrated by taking a nice walk around the Old Town. On our way there, we saw a cardboard cut out of something hanging from one of the walking bridges. Pic below. I guess there was a group of people that were against the Olympics and wrote 10 Reasons to boycott the Olympics on the side. Interesting reasons I must say. We then stopped and warmed up at a tea-house and had a sachertorte, a chocolate cake traditionally made in Salzburg and Vienna. Originating in the Hotel Sacher by Franz Sacher, this chocolate cake has apricot jelly in the middle, and it is sooooooooooo sooooooooooo good. I want to go back to Salzburg just for that cake and the berliner, which see the picture below. The Berliner or krapfen is a typical pastry that is eaten before Ash Wednesday so Carnival time. Jelly donuts & chocolate cake. I looooooved Salzburgmmmmmm! It was calm Valentine's Day and Julie is probably the only person who has been my Valentine more than 3 times, I mean we have gone to school together since 4th grade! Thanks Julie, you've been a great Valentine.
Walking through Getreidagasse (the Champs-Elysee of Salzburg)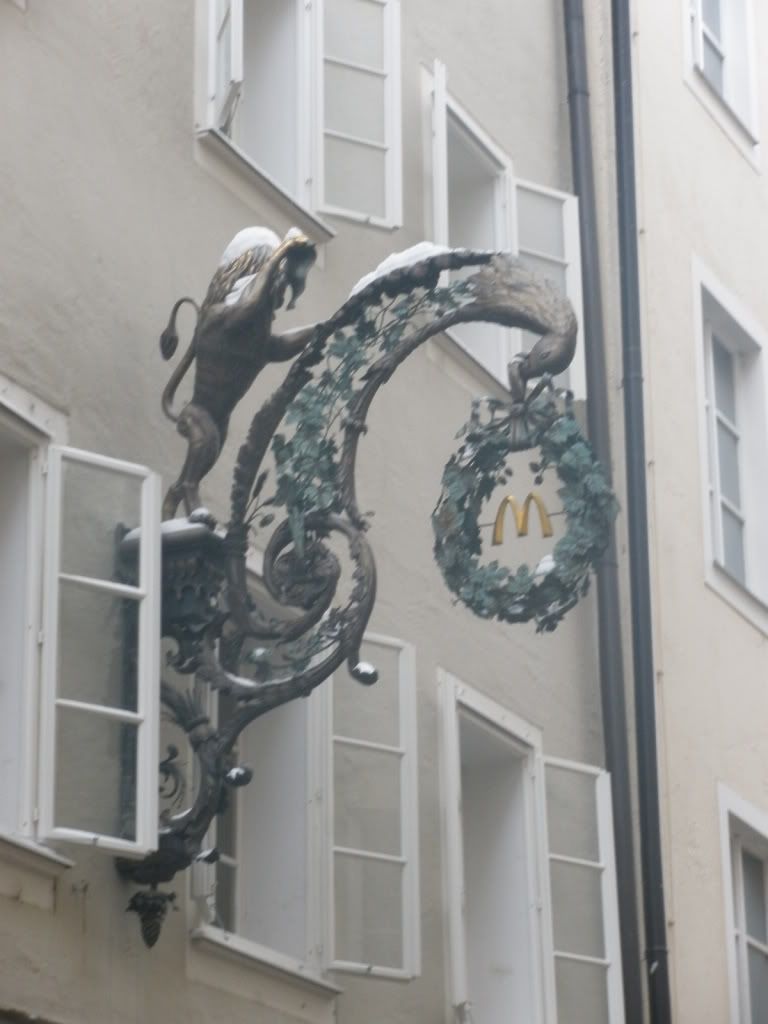 Check out the ornate signs =)

Salzburg Day 4- The Sound of Music Tour
My last day in Salzburg, so sad. I decided to leave the best for last, the Sound of Music tour! For those of you who have not seen the movie, it is a must so please go now. Since I am nice, I will give you all a synopsis anyway: It's the story of the family Von Trapp who accept Maria to be the nanny and she falls in love with Mr. Von Trapp and they start singing songs and then the Nazis come to get them because Mr. Von Trapp doesn't want to work for them and the escape into the mountains, even though in real life they went to Italy! So I tell Julie that I am really nervous because I hadn't reserved my place on the tour, and that chances are it might be full already. So I brace myself for disappointment. As it turns out, not only did I get a student discount, but I was the only one! Private tour for me!! Which means that I got to see more things and I could ask questions when I wanted and sing along as loud as I wanted to. My tour guide was actually from Spain so the tour was in Spanish/English/French/German. I love Europeans. I got to see so many beautiful parts of Salzburg and Austria as a matter of fact. So we went to the some of the important parts in the movie like: the Maribel gardens, the mansion where the Von Trapp's lived in the movie, the convent where Maria was, the hills that are alive with the sound of music, Wolfgang Lake, and other places.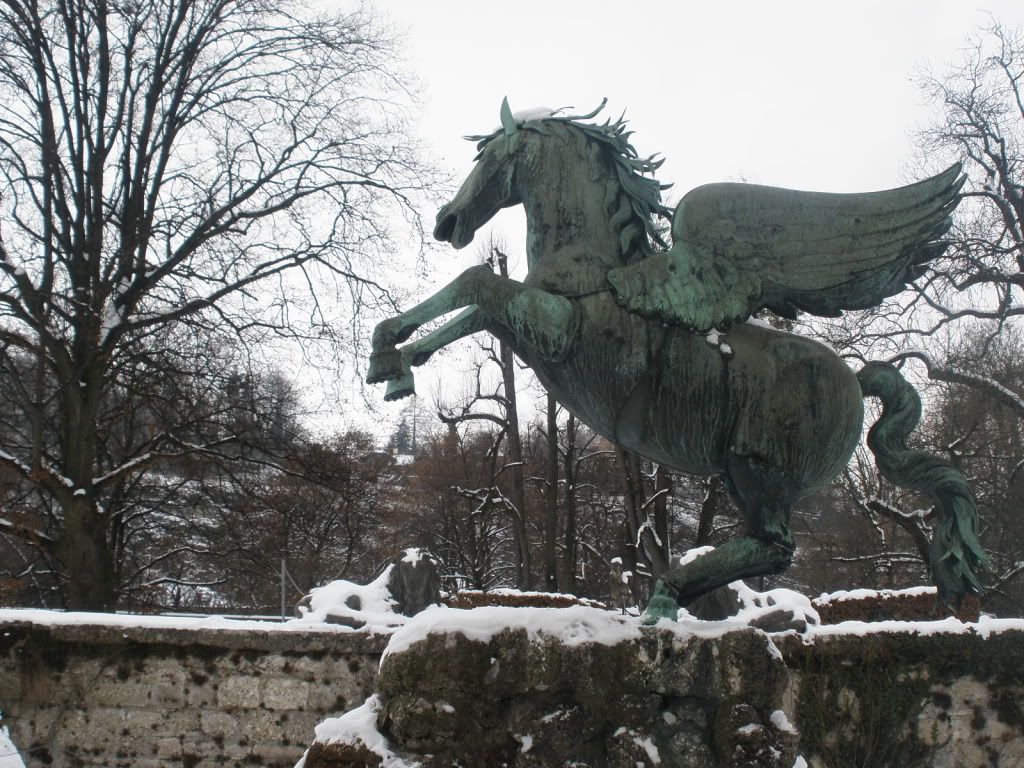 Pegasus Fountain at the Maribel gardens.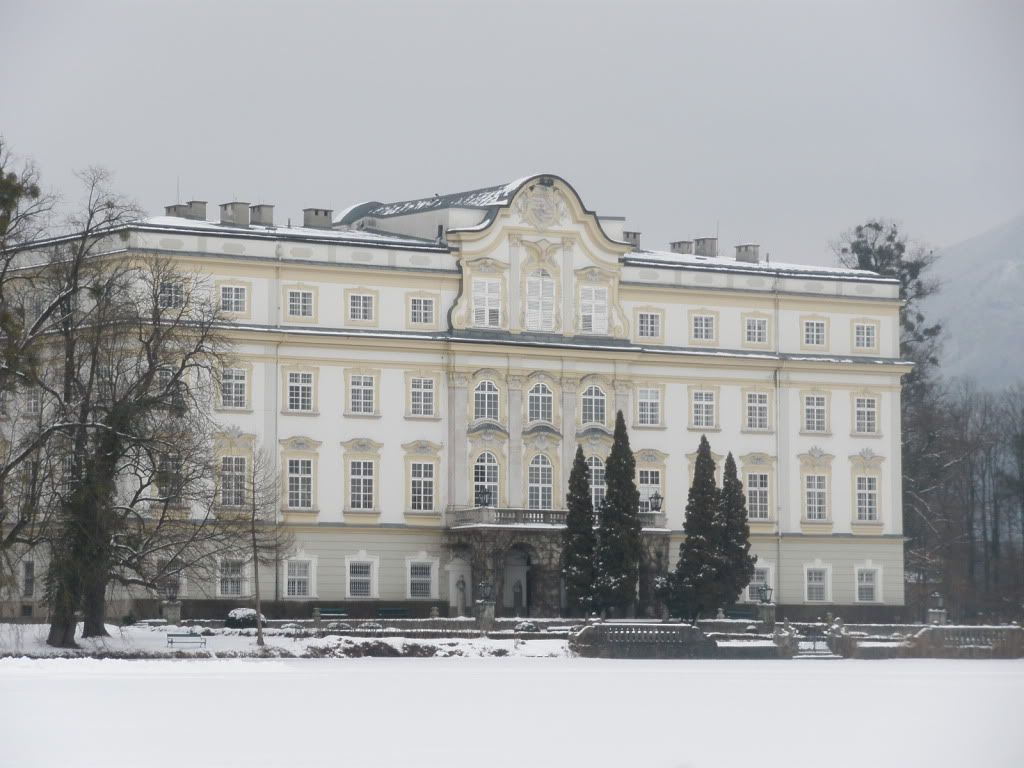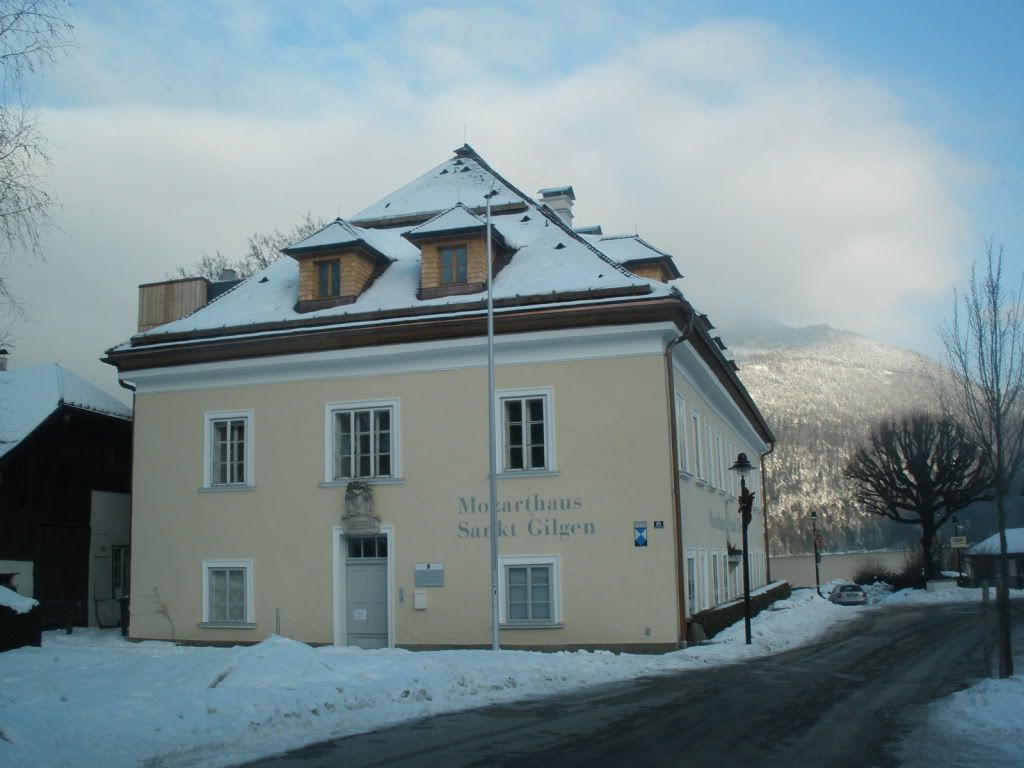 Mozarts' mother's home and sister's birthplace.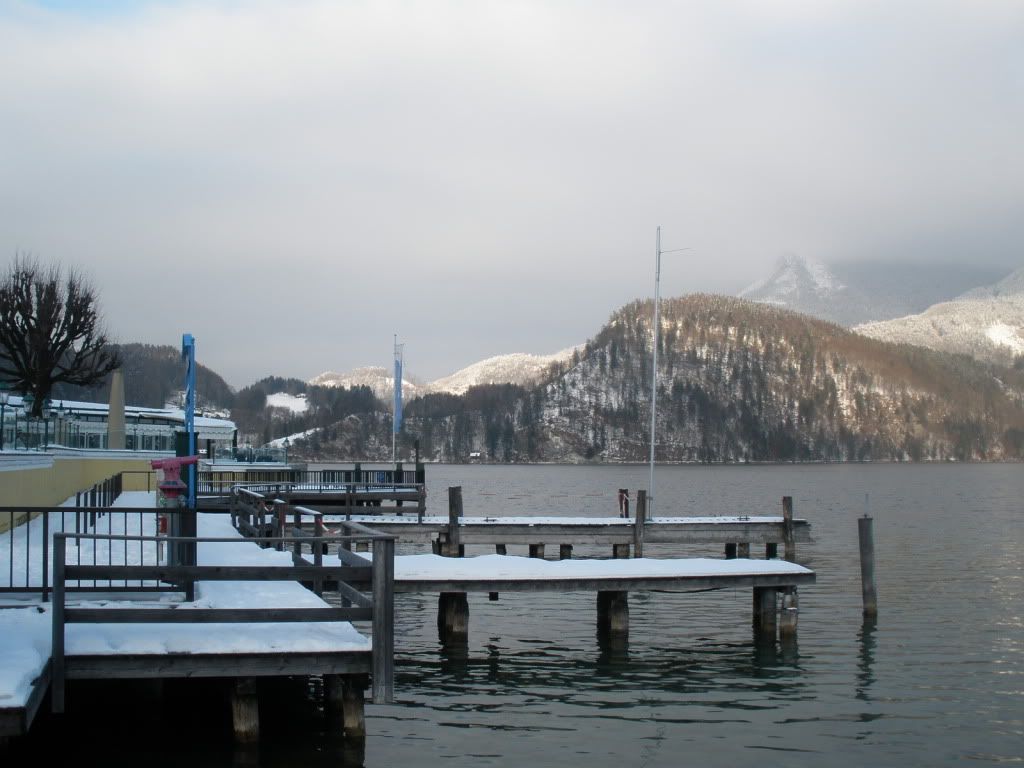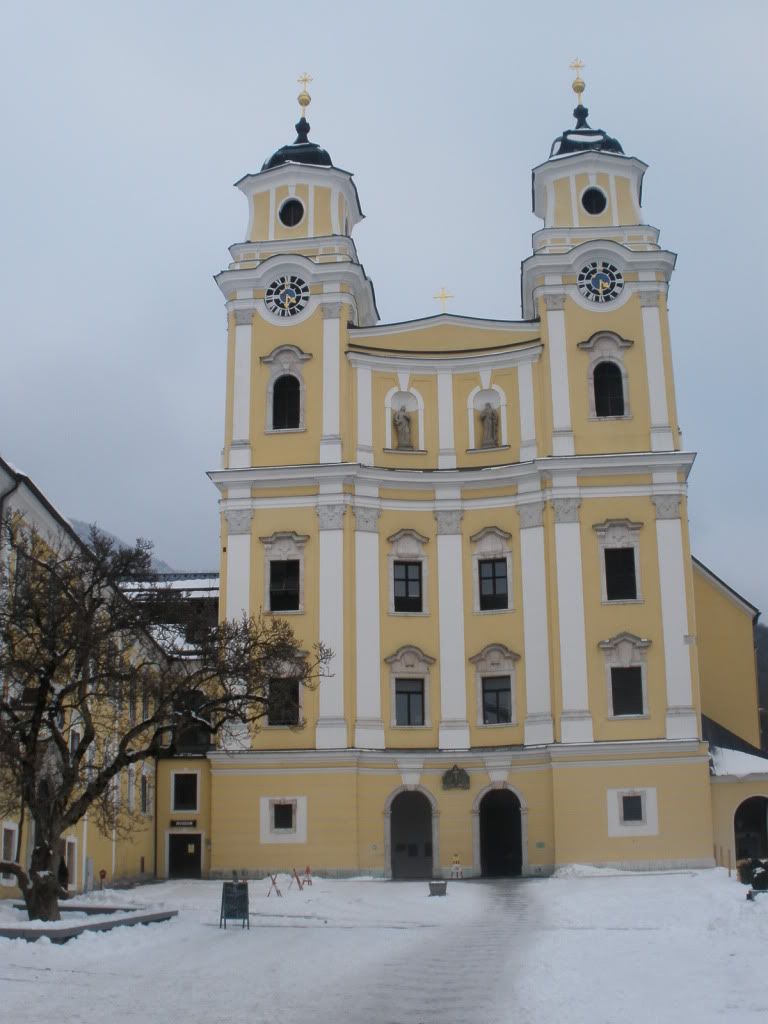 The Church were Maria Von Trapp got married with the General... hehe.

Leaving Day =(
The last day in Salzburg the sun comes out, and it only makes it that much harder to leave. I wasn't really tired, but for some reason I felt sleep deprived. Hm? So I thought I was going to leave early, but Julie's host mom convinced me to stay a little longer, after all it was Mardi Gras. ITS MARDI GRAS! CARNIVAL! Well I did leave, and after arriving in Munich taking my flight to Paris I decided to go to a Mexican restaurant and eat my last meaty meal for a while. I ordered mole =) I had found this restaurant, Anahuacali, online which had received a lot of good review. Well it was alright. I mean, I am a little picky when it comes to how I like my mole done, but it was alright. The tortillas were fresh; I will go back and try some of their tostadas. I won't give up on them. It was through them that I found Mex & Co, a restaurant/Hispanic grocery store in Paris!! Look at what I bought myself:

Oh yes. It cost me 22 euros, but so worth it. I have missed these jalapenos oh so much! I eat them at almost every meal.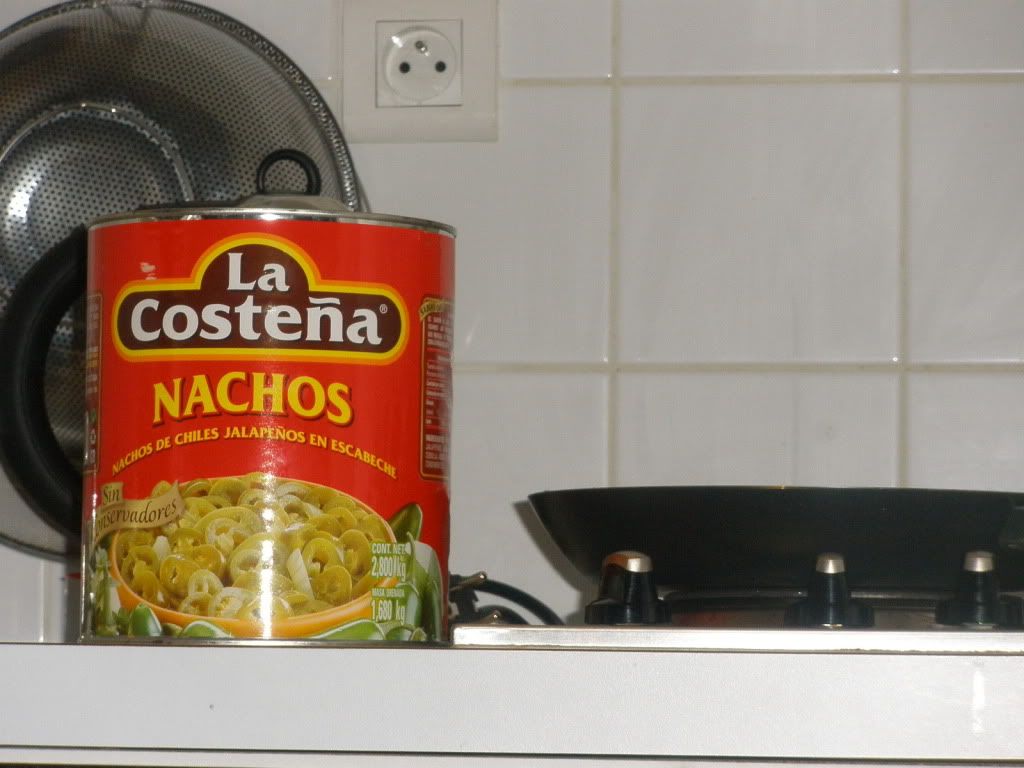 That weekend, I also celebrated Chinese New Year & David's 21st Birthday (a friend of mine from Middlebury) by going to a Chinese restaurant. That bamboo stuff is my new favorite, I don't know why but I have a loss for everything at the moment, I don't remember the name of restaurants and the food I've eaten.. it must be a phase. It is also midnight, so that might be it.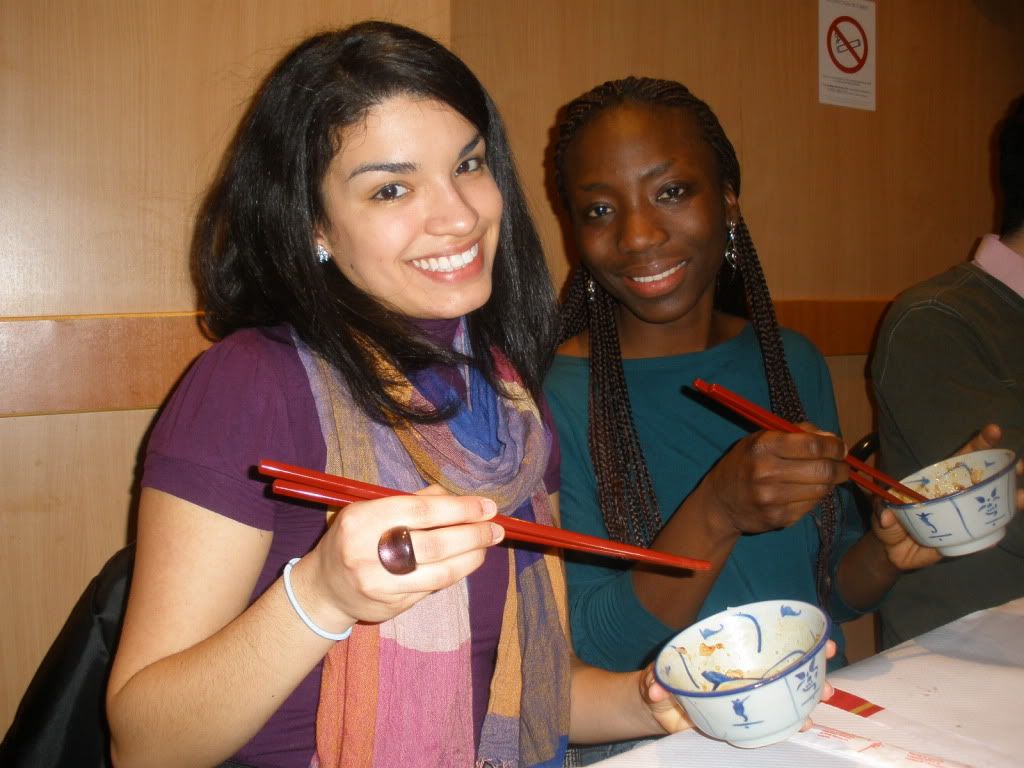 Well, I still have to update about my weekend in Belgium, so that is coming up!!
Also I have great news, my friend Luca and his family whom I stayed with in Italy is coming to visit me for Easter break!! I am so happy that I will be able to spend time with them on one of my favorite times of the year. I can't wait!!!
With hugs, Mayra.